1000 Food Bags to Families in Great Need
Honduras has been in severe lockdown since the 19th March. Only one person is allowed out to go to the supermarket or pharmacy and only on the day stipulated by the government by the start number on the ID card which everyone has. Cesar's day out is Wednesday. Few are allowed to work unless from home but that needs the internet. The armed police and army control the streets.
No work causes a big problem, if you cannot work it means you have no money to buy food. The people we support cannot afford to buy food for the cupboard but buy food when they manage to find work. This is precarious at best but under lockdown it is causing desperation. The ladies who wash clothes or clean house are no longer needed even if they could get out. Like much of the world this virus is causing a lot of unemployment which in a country that has no social support is very hard.
There was CH Trust sourced food, remaining in the schools and feeding centres when the lockdown started. Cesar provides food to them in batches intended to last about three months. The teachers are organised the bagging and distribution of the remaining food to the families most in need. This had to be organised on the day that the head teacher is allowed out. Unfortunately, it is too early in the year to be harvesting any food from the school gardens. In fact, it is the time when they should be planting seeds.
This was CH Trust food left in the feeding centre in Pedrigal at lockdown.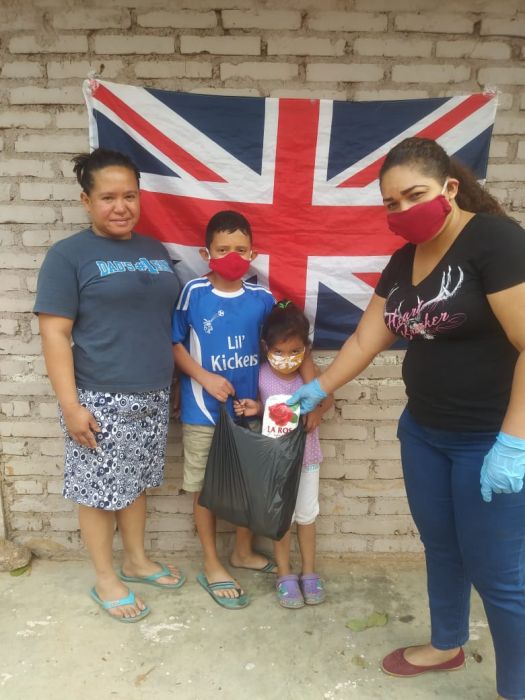 Angelica giving out a bag of food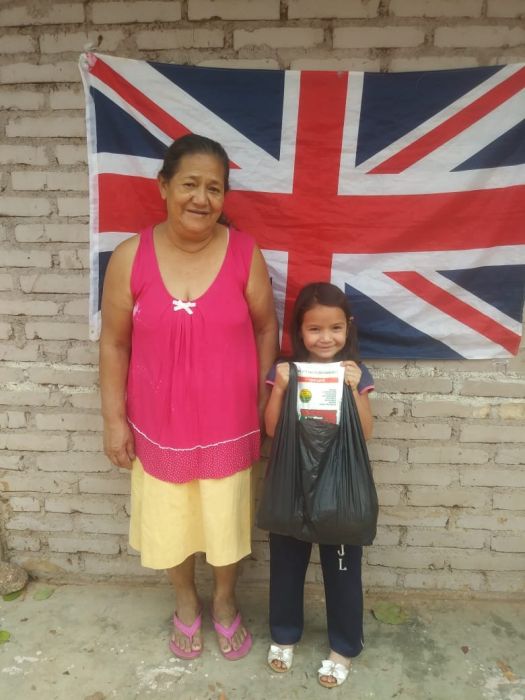 Pastor Felix and Angelica put the food into bags and gave them to the families most in need.
What I like about the poor of Honduras is that they are always ready to give to the family with the most need. Cesar once took a single mattress from the containers up to the Lencas but then had a problem. A large number of people but one mattress, when asked for advice they were all in agreement, give it to that lady as she needed it. They could all have made good use of that mattress.
A week last Wednesday, Cesar was granted permission to purchase 1000 food bags and to distribute them over three days to five different locations. One week later him and three friends took trucks down to Comayaguela. to pick up the food bags where he usually buys them from. He gets good service and the price is good. The police escorted them down the mountain and the army across Tegucigalpa to Comayaguela.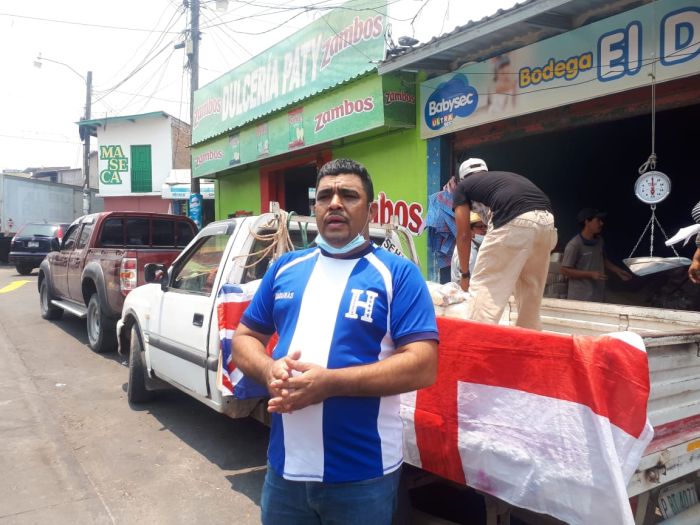 These are our bags on the left.
The owner of the bodega where they bought the bags sent us a video thanking us for the custom. She said that it helped to keep them in business in hard times as well as allowing them to employ others to help put the bags together for the order. Each person employed is feeding at least one family and probably more. Cesar was distressed that he could not give a few bags to ladies who came up to them as they loaded but the army personnel would not allow it as they said it could create an uncontrollable crowd. The escort went in reverse order back up the mountain where they unloaded the trucks onto a tarpaulin behind closed gates of Cesar's house. Early the next morning they reloaded the trucks and three of them went to deliver the bags. Again they were told who could and couldn't help according to their ID number.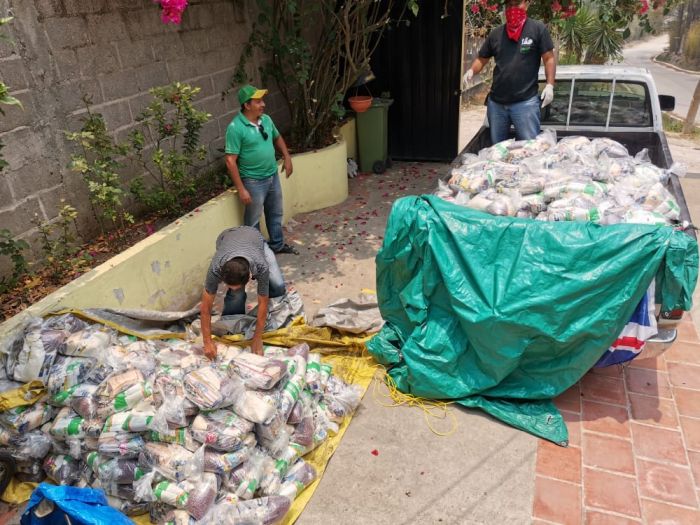 Unloading in Cesar's yard.
In two days, they had given out all 1000 food bags. Cesar phones ahead in several areas telling people that he would be calling, others he gave out along the way. He even made a separate journey to an old couple who he knew would not be able to reach any of his drop off points.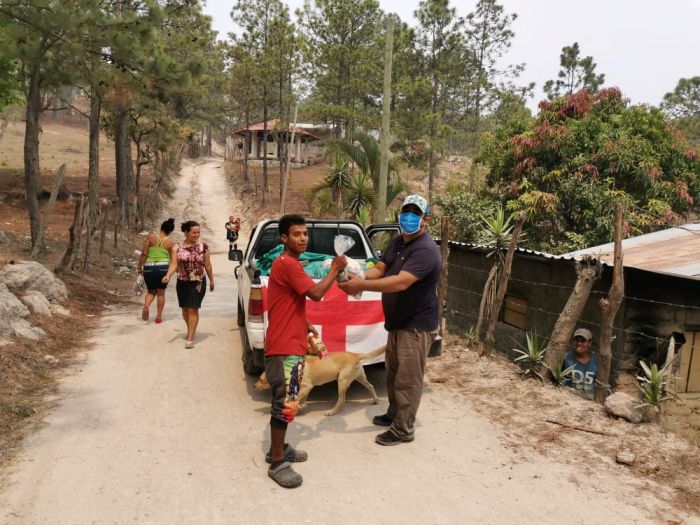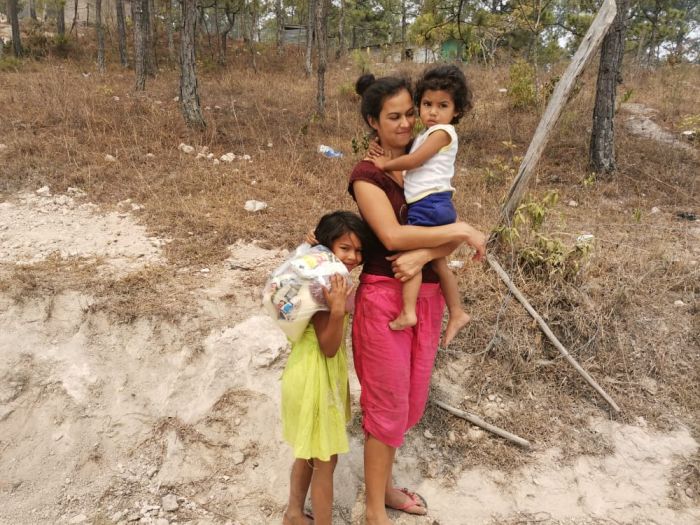 In some areas the people have been allowed to pick the cabbages that are ready to harvest. The farmers are not able to take them to market to sell so allowed people to pick them rather than let them rot.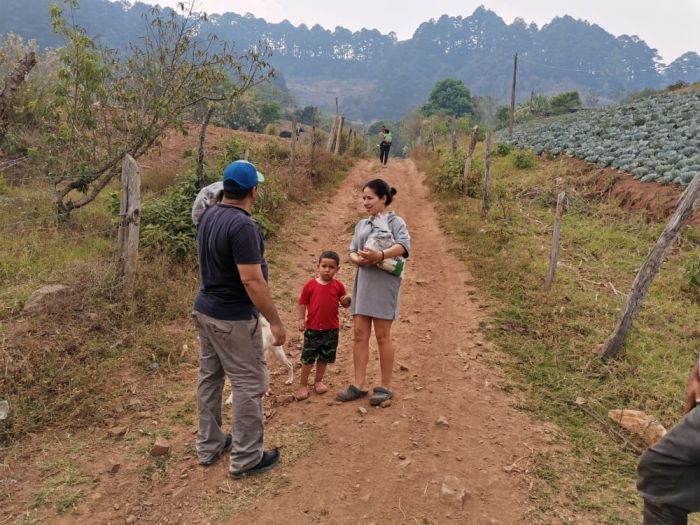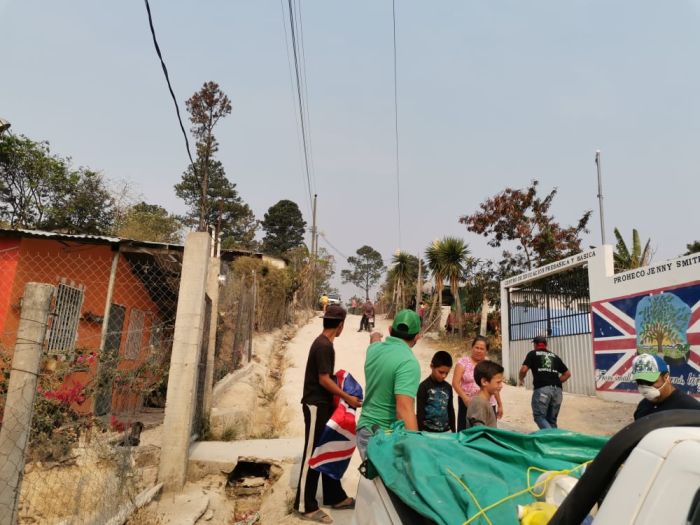 This photo is taken as they give out bags outside the Jenny Smith School and the three villages in that area.
Cesar would like to give out vegetable seeds to families who have sufficient soil to plant them around their homes. He needs to do this within the next two weeks to make the most of the growing season. It rained heavily the other night so it is hoped that the rains are coming and that they will be plentiful. Currently they only have water switched on once a fortnight and sometimes only once a month. People store water in any available containers. Drought has been a problem for the last three years.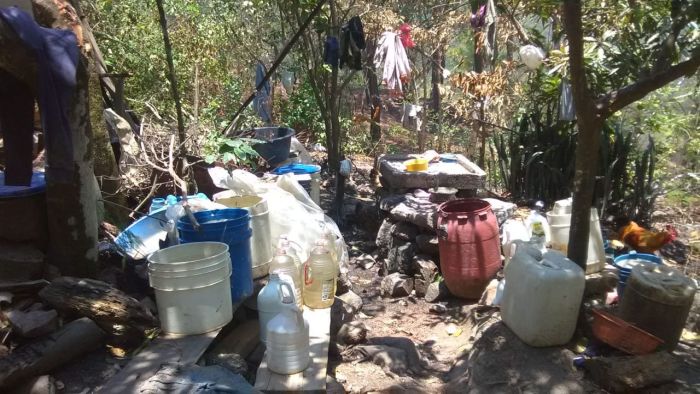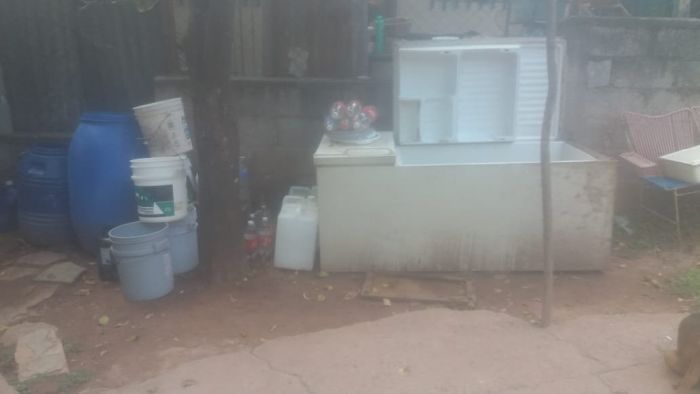 This photo is taken as they give out bags outside the Jenny Smith School and the three villages in that area.
Last week Cesar gave out a total of 1000 food bags to five areas at a cost of £5000. Next week he hopes to distribute another 1000 bags to four villages and two communities of Tolupan people if he is allowed. If he is not given permission to travel to the Tolupan he will give them in two more areas in the Valle. There is more need than we can supply and at £5000 for every 1000 bags our money does not go very far and we do not know how long they will be in lockdown. It is in place until 19th May but the virus is spreading quickly through the country and they have no answer than lockdown so it could last for a lot longer.