About Locations
Map of Honduras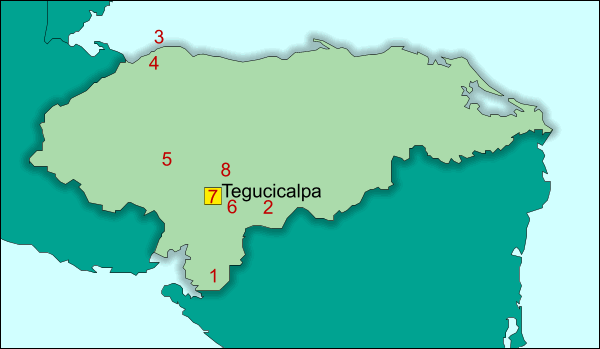 Areas supported
1
Choluteca
2
Danli
Choluteca is south of the capital Tegucigalpa. The area is quite flat and very hot. The seperate ministries of David Dominguez and Norma Ramirez take relief aid and medical assistance to this area. Many items having been sent from England in the containers.
Danli is 97km east of the capital Tegucigalpa. This is a rural area where Pastor Raul and his wife, Iris, lead a small church.
3
Puerto Cortés
4
San Pedro Sula
Puerto Cortés is on the north coast of Honduras. This is the port where the containers from England are unloaded from the ship.
San Pedro Sula is the industrial heart of Honduras. It's location is not far from Puerto Cortés. One of the churches that we support is situated in Cheloma which is a suburb of the city of San Pedro Sula.
5
Siguatepeque
6
Suyapa
Siguatepeque is 3 hours north of Tegucigalpa along the Pan American hi-way which connects Tegucigalpa to Puerto Cortés. The two churches we support here are Calvario and El Verbo.
Suyapa is a poor district on the mountain overlooking the capital. It is built on the former rubbish tip for Tegucigalpa. Here we are supporting 2 schools and many community projects run by David Dominguez.
7
Tegucigalpa
8
Valle de Angeles

Tegucigalpa is the capital of Honduras, a city which happened rather than was planned. The Emaus building in Picacho is the home and head quarters of David Dominguez Ministries which includes print shop, doctors and dental surgeries.

El Sitio is a small church just to the east of the city. Many of the people who live in this area work in the capital.

Comayaguela is a suburb which adjoins the city of Tegucigalpa. This is where the street children are mainly to be found. Peniel is therefore very much an inner city church. It will soon be adding a 3rd storey.

Valle de Angeles to the east of Tegucigalpa is home to the large church and school pastored by Norma Ramirez and Alberto Cruz.

Emcampamento is situated just outside the village of Valle de Angeles. This is part of David Dominguez's organisation and where the youth of Honduras have benefitted from the youth summer camps. These are accessed by over 1000 children a year. There is also a school on this site.