Schools
CH Trust has worked with a number of schools in the Valle de Angeles area, and further afield, for many years funding projects including child sponsorship, free school meals, construction projects, special meals and educational trips.
In January 2015 Keith Markham visited several of these schools and his report together with photos is set out below:
Schools - Guanacaste
CH Trust has been heavily involved with this school for a number of years and has provided a toilet block, an additional classroom and much needed school supplies. Some of the students at this school also receive sponsorship in terms of basic school supplies and also free school meals. A number of years ago CH Trust volunteers from England painted a mural on the wall of one of the classrooms which is still there today.
On looking around it was obvious that much of the equipment being used had come on the containers sent by CH Trust but there was also evidence of other equipment such as solar panels provided by other organisations.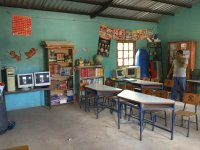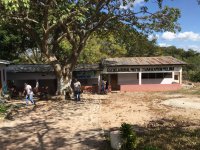 Schools - Buena Vista
This school was originally built in the 1970s but has lain unused for many years and is in a poor state of repair. Starting this school year (2015) the school has been reopened with a small number of students and one teacher with a view to expanding this work in the future. Some of the students at this school benefit from child sponsorship and free school meals.