Iota Flooding in North of Country Worse Than Mitch 22 Years Ago
The flooding in the north of the country was worse than in Hurricane Mitch 22 years ago. This time however the central mountainous area and the capital were not so badly affected.
We are going to complete the planned delivery of food bags for the central area as well as sending money to those we support in the two cities of San Pedro Sula and Choloma where food and water are in great need. The food bags will still be needed by those in Teguc and the Valle, we as there is still little employment and the rains have destroyed growing crops in gardens and fields. The Lenca trips may have to be delayed until the roads and fords are in a better condition.

We are planning Christmas party dinners for the children but they may be different as they may be done as take away to be eaten at home because of the Covid risk. There is great excitement by all at one bit of good news.
This picture just arrived today from Guanacaste feeding centre which has stayed open all through their seven month lockdown. They are so high in the mountain that the police and army were not checking that people were out.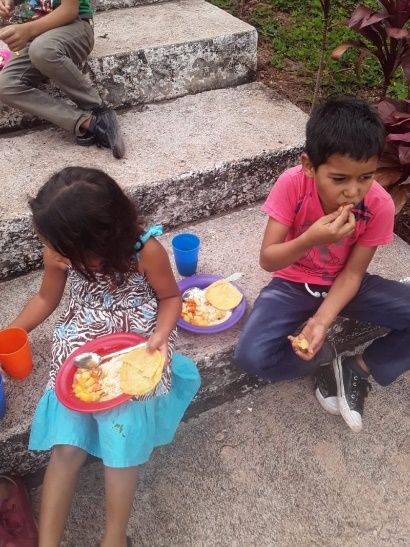 The floods are starting to recede but then the hard works starts. As the rain has continued landslides have become a greater problem as the ground is saturated and can hold no more water.
This picture shows the houses that are built on the side of the river Blanca in San Pedro Sula. John and myself visited this community on our last visit to Honduras as some of the people attended the church we were supporting and visiting. We could not understand how they could turn out for a church service in a freshly laundered shirt neatly ironed when living in less than basic accommodation.
All of the building you can see are on sand on the banks of the river. These building stretch sideways for about four miles. They are always in danger when the river is in flood. When we sent containers we sent them, at their request, rope and a lifebelt, the latter, rescued from the Thames by Jenny's brother. The flooding brought about by the two hurricanes needed more than a lifebelt.
I asked Abel in charge of the church, how they were and was told that the flooding had been very bad in San Pedro Sula. He and his family are safe but many people who lived by the river had been affected. Many will have been left with nothing, all taken by the river. Some loose their lives trying to protect the few things they possess. He said that the families were desperate for food. I released money for this purpose. This was Abel's reply "Thank God, because he has listened to our prayers and it is God who has spoken to your Heart to send help to every family that needs it in these difficult times.
The Sula Valley was flooded to a depth, reaching the roofs of the houses. Many villages were cut off as roads and bridges were washed away leaving them as isolated islands. The Royal Navy has been helping in Honduras, their latest mission has been to make up special aid packages, including emergency shelters, food, water and sanitation products, and drop them inland, from the support ship RFA Argus. The ship has been in the area with relief supplies which might have been needed after a hurricane. It was there to give aid to British protectors in the region during hurricane season if needed. It therefore had all the provisions needed on board for this situation. They packed them and dropped them from helicopters. The locations were given by the Honduran police. Alongside military assistance, the UK is providing vital disaster recovery kits – including shelter, cooking and sanitation kits – and £1m to the Red Cross emergency appeal.
When the water receded, then the hard work started moving the inches of mud.
Choloma and neighbouring Lima were badly flooded. Drinking water and food were needed. Pastor Francisco said they had three problems. Covid virus which had killed many, Hurricane Eta a category 4 followed, two weeks later, by Hurricane Iota category 5. I wrote back to say we were lucky we only had Covid. That is not a usual response in England. Francisco wrote" We as a church are trying to help with little but we are helping and not only the church members but also several families. We have 22 families who lost everything living in our church building. We are providing them with food, clothing and shoes. But they need much more. And for a long time." As well as food and water he asked for flip flops or croc so that they could walk through the mud. He said that they needed tined food, which is not so common with people in Honduras as they cook from basic ingredients. I then thought yes, but you need a fire, pots, pans, plates etc. that they do not have. Food can be eaten straight from the tin. It is difficult to realise what nothing means.
Landslip often send a home down the mountain. This time I have heard of several houses being buried by earth from above. This happened to two Lenca homes which killed the famlies inside. A whole village of 250 homes were buried but fortunately the houses had been evacuated. It did mean that neighbours could not help each other as they had all lost their homes. A thousand people homeless. We would struggle to cope with that in England.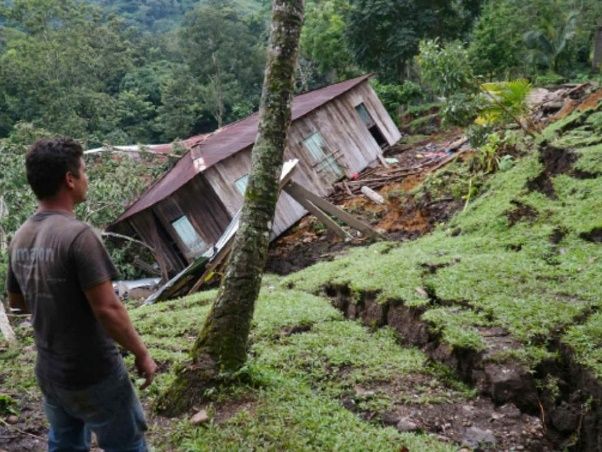 This is the dining room at Guanacaste which we only finished building in January this year. A large piece of tree fell onto the dining room roof. The men have now cut the tree down. No children were in school due to Covid. If the whole tree had fallen there would be no dining room, look at the size of the trunk.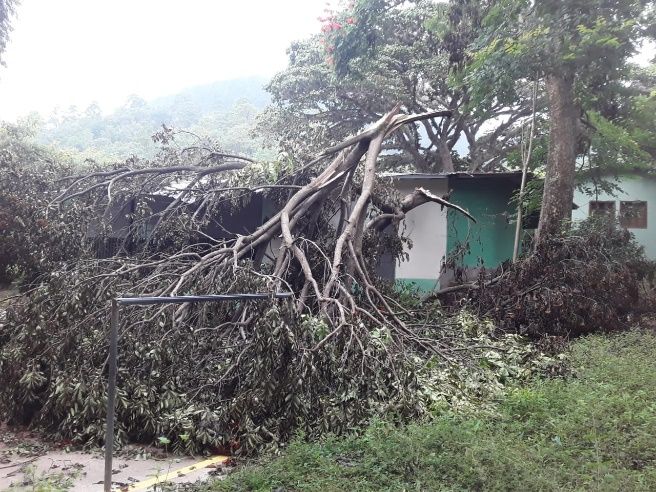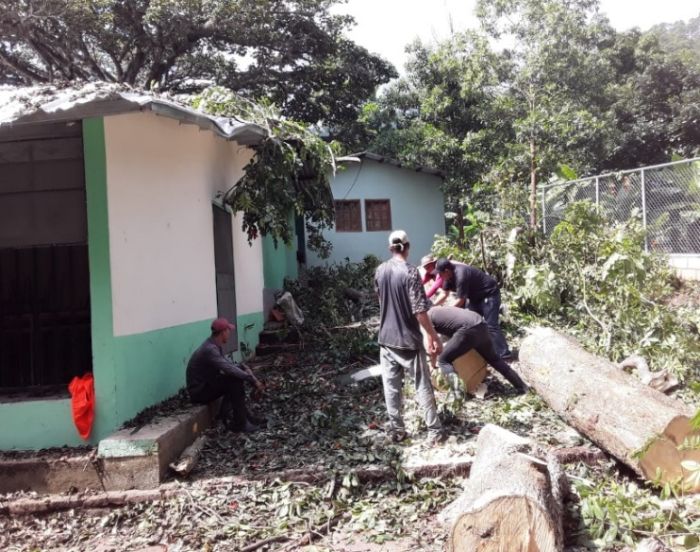 In the next two months we will be providing food in many forms as the people were desperate as crops had failed due to the heavy and sustained rain before the Hurricane arrived. Bags of basic food will be distributed in and around Tegucigalpa via the school system.
This is a photo of Cesar's daughter with a bag of food that she and her brother helped to assemble. These bags contain, rice, red beans, flour, spaghetti, a sachet of sauce for the pasta, special tortilla flour, salt, stock cubes, and a few coffee sachets.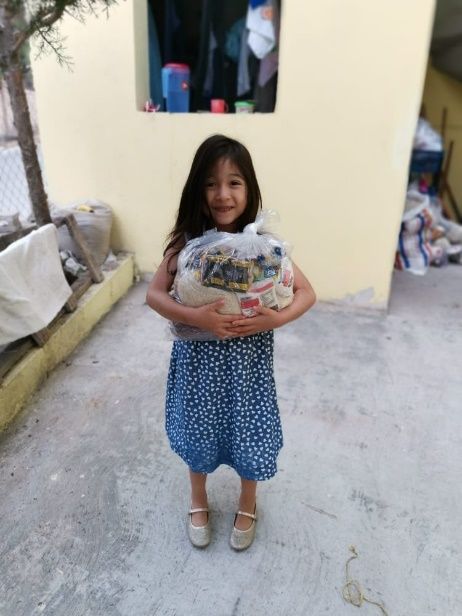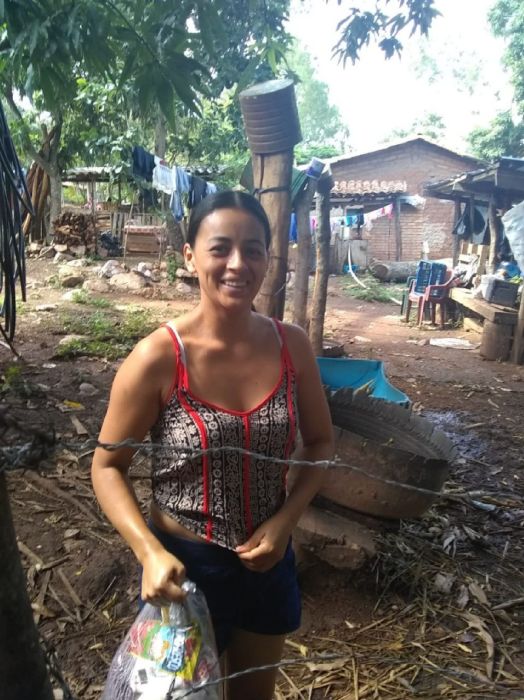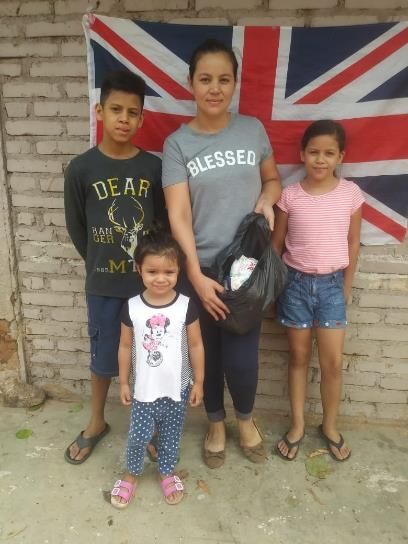 This is how Paster Felix delivers food bags when you do not have a car.
Vicente College earlier in the year when the students were in attendance and receiving our free cooked lunches.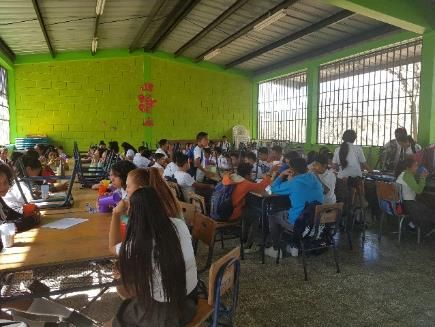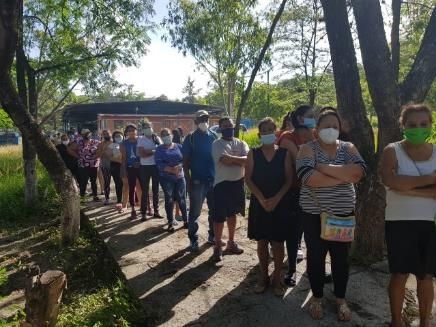 Parents of these students who were notified to come to the college to collect one of our food bags in May. They will get another round of bags before the end of this year.
This gives you an overview of what is happening in Honduras. They will be delivering food bags in the rural villages around the Valle and, when able to travel, food bags and fruit trees for the Lenca and Tolupan people. In the north we will be providing food, water and a few other essentials. The icing on the cake for the children is that they will have the Christmas dinner party that we usually provide even if a bit different this year as many will take the food home so as not to mix with other people.
Last years Christmas dinner party
Covid and the Hurricanes have brought unemployment to many people. The torrential rain has destroyed crops in the gardens and fields. Thousands are living in shelters, with the problem of Corvid spread increasing. Some will be able to return to their mud invaded homes but many have had their homes destroyed. It goes without saying that the people in Honduras are very grateful for our help.